Airport high-speed railway could draw China-Japan investment, says minister
YUKAKO ONO, Nikkei staff writer
September 16, 2018
BANGKOK -- Thailand is embarking on a building spree that promises to more than double the passenger capacity of airports in and around Bangkok, propelling the Thai capital past regional hub Singapore by that measure.
In an interview with the Nikkei Asian Review on Sept. 13, Thai Transport Minister Arkhom Termpittayapaisith said the new U-Tapao airport, a former military air base southeast of Bangkok, will handle up to 60 million passengers a year once it is fully renovated into a civil airport. The entire transformation is expected to take 20 years.
Currently, the airport accommodates around 300,000 passengers a year, mostly tourists on chartered flights to and from China and Russia.
Located in the Eastern Economic Corridor, a heavily promoted special economic zone, U-Tapao will also serve as a gateway for business travelers, Arkhom said. The corridor is meant to attract investments in high-tech and high-value-added sectors such as aerospace, robotics and biotechnology, enhancing the country's competitiveness.
"In order to promote these advanced industries, we need the new infrastructure," Arkhom said. With Bangkok-Suvarnabhumi and Don Mueang airports already over capacity, a new airport is essential.
Suvarnabhumi and Don Mueang will also be expanded, reaching annual capacities of 90 million and 40 million, respectively, up from the current 45 million and 30 million. All told, the three airports will be able to handle 190 million passengers annually, a 2.5-fold increase.
This compares with the estimated 150 million passengers that Singapore's Changi Airport will be handling in 2030, when its fifth terminal is completed.
Arkhom added that U-Tapao airport also hopes to develop aircraft maintenance, repair and overhaul centers, another aviation business that
Singapore is currently leading in the region.
There are plans to build a 220 km high-speed railway connecting the three airports by 2023, in line with the completion of U-Tapao airport's first phase that will be ready for 15 million passengers annually.
The bidding for the $7 billion railway project will be held in November and the winners announced in February 2019. Bidding documents, which were available until early July, have been purchased by 31 companies. Among the prospective contractors are large Thai companies, such as food and telecommunication conglomerate Charoen Pokphand Group and state-owned energy producer
PTT
, as well as bidders from China, Japan, France, Italy and Malaysia.
"We have been informed that Japan is now working with China to form a consortium to make proposals for the project," Arkhom said. The two countries agreed earlier this year to
work together on infrastructure projects overseas.
The railway will eventually reach China, Arkhom said, as it will be joined with another high-speed railway to be built between Bangkok and the town of Nong Khai on the Laotian border. This railway, currently under construction with technical support from China, will, in turn, connect with a high-speed railway in Laos that will stretch to the Chinese border and is part of Beijing's Belt and Road Initiative.
The first phase of the Sino-Thai railway, between Bangkok and the northeastern province of Nakhon Ratchasima,
began construction on a 3.5 km stretch last year
after years of delay. Bidding for the remaining portion is expected by the end of the year, Arkhom said. The first phase could be in operation by 2022.
China was set to fund part of the project, but
Thailand decided to pay for it on its own
after the two sides were unable to come to terms over the interest rates on Chinese loans. But Arkhom said in Thursday's interview that Thailand is still considering taking loans from China.
The interest rates proposed by the Chinese side "are getting better," Arkhom said. Still, most funding will come from domestic banks, he said, adding that Thailand has no obligation to borrow from China. "The Finance Ministry will make the final decision," he said.
The airport railway, meanwhile, will be covered under a public-private partnership scheme, easing the fiscal burden of the of the project, Arkhom said. The government will pay for the land and part of the construction cost.
"But the private sector will have to bear the operational risks," he said. The private sector will be responsible for the construction, operation and any development along the railway. The government will not provide financial guarantees regarding its profitability, he said.
It Won't Burn Down: Architect Defends Vision for Bangkok Airport
Natnicha Chuwiruch
September 22, 2018
Thailand plans to add $1.3 billion terminal at main airport
Designer rejects claims wood-clad structure may be fire risk
Bangkok's main airport is planning to add a $1.3 billion terminal with extensive wooden cladding and a forested landscape, spurring concern about fire risk. Its designer says there's no need to worry.
Tropical forests inspired the blueprint for the building and the aim is to give travelers a feeling of Thailand's uniqueness, 52-year-old architect Duangrit Bunnag said in an interview. He rejected concerns from the Engineering Institute of Thailand that the structure could be a fire hazard.
"Airports tend to have similar features -- they're white, cold and metallic," Duangrit said. "I wanted a design that immediately gives travelers the feeling they've arrived in Thailand. It will be a metal structure covered with wood. Different treatments can be applied to the timber to ensure fire resistance."
The Biggest
Airports of Thailand Pcl
, the biggest Asian airport operator by market capitalization,
announced
last month that it was awarding the design contract to a joint bid by
Duangrit Bunnag Architect Ltd.
and Japan's
Nikken Sekkei Ltd.
Read about Singapore's ambition for an automated airport
The state-controlled firm expects to boost annual passenger capacity by 30 million by building a second terminal at Bangkok's Suvarnabhumi international airport. Construction is due to start next year and finish by 2021.
A tourism boom is straining the country's infrastructure, putting pressure on officials to tackle bottlenecks. Foreign arrivals could hit 40 million next year -- equivalent to more than half the population.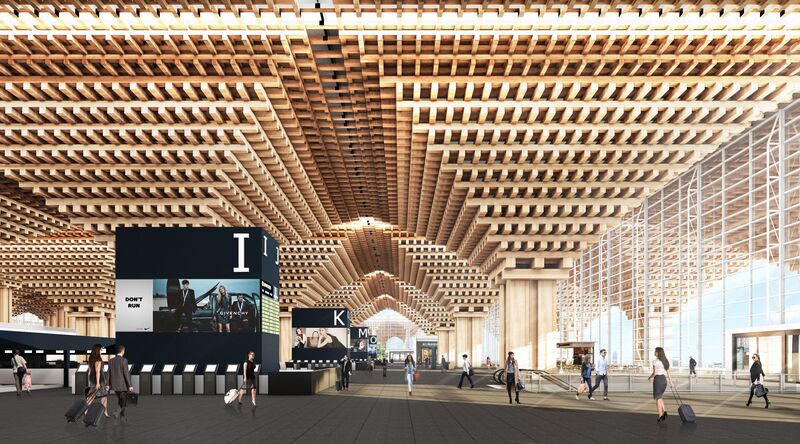 Rendering of Suvarnabhumi Terminal II design proposal.
Source: Duangrit Bunnag Architect Limited
Duangrit's design features sweeping arches and giant columns clad in wood. He also proposed an enclosed tropical-forest landscape spanning about 16,000 square meters between two buildings of the terminal. Passengers would be able to see but not to enter the landscape, a symbol for ecological protection.
"The difficulty in designing the terminal is how to make it memorable to travelers from around the world," Duangrit said. "How do I make it look different to all the other airports?"