An observation the actor made while living in Singapore.

Karen Lui
April 13, 2022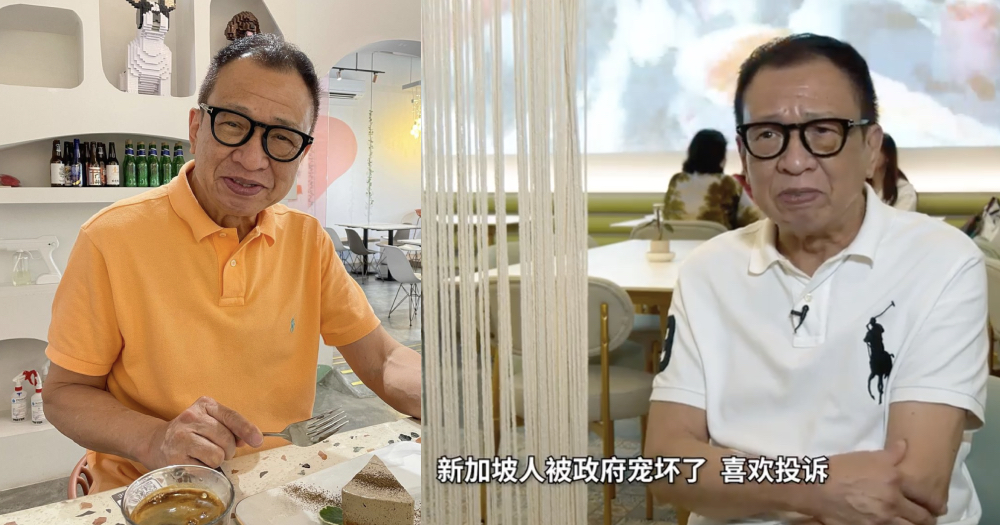 Complaining is a national hobby in Singapore, and even Hong Kong veteran actor Benz Hui agrees.
In a video interview with Lianhe Zaobao, the 73-year-old shared his observations of Singaporeans during his prolonged stay in Singapore due to the pandemic.

Singaporeans are complain kings and queens
Towards the end of the interview, he described himself as someone who speaks his mind, unlike some people who are afraid of doing so.
Without mincing his words, Hui candidly remarked, "Singaporeans have been spoilt by the government and like to complain."
He explained that while people around the world generally complain if someone does not perform well, Singaporeans are more intense and will complain regardless of the situation.

While Hui thinks that appropriate complaints are fine, he said some of them reflect personal opinions and standards even though the subject of the complaint is not necessarily bad.

"That's not very good, consider changing it," he said.

In comparison to Singaporeans, Hongkongers will also complain, albeit more rationally, Hui remarked. "The welfare isn't as good in Hong Kong so the locals aren't pampered," he added.

He feels that Singaporeans are too fortunate, and believes that Hongkongers are not as spoilt as their welfare benefits are not as good as Singapore's.

He suggested that people treat the government better and give them a break.

Almost immediately after he voiced his opinion, however, he acknowledged that such sentiments might not be well-received, saying, "A lot of people will scold me."

He said his recent observations were made during his prolonged stay in Singapore due to the pandemic.

He previously travelled back and forth between the two cities regularly, and did not stay in Singapore for very long.
Hong Kong doctor friend afraid to see Singaporean patient
He also added that Singaporeans are "too knowledgeable" as compared to Hongkongers.

Hui's friend who works as a doctor in Hong Kong told him that he was afraid of seeing Singaporean patients.

According to Hui, these patients are too knowledgeable to the extent that they would interrogate the doctor about why such medication is prescribed.

Hui explained that the doctor might feel slighted if the patient questioned them in such a manner.

He believed that patients should respect the doctor's professionalism and judgement.

At this point, Hui becomes self-aware again that some people might get upset as they do not agree with his views.