SINGAPORE — Singapore has retained its position as Asia's best city in offering the best quality of life, according to an annual survey by consulting firm Mercer. However, it came in at
No. 25 in the world ranking.
Mercer's survey of 231 cities
helps companies and organisations determine compensation and hardship allowances for international staff. Its criteria include
political stability, health care, education, crime, recreation and transport.
"The best livable cities, like Singapore, can attract executives in mulinational businesses," said Mr Mario Ferraro, Mercer's Global Mobility Practice Leader – Asia, Middle East, Africa and Turkey.
"There are few success stories like Singapore, which went from third-world economy to first world within a single generation and is primed for the future of work."
In Asia, Tokyo (50) and Kobe (50) tied for second place and Yokohama (55) came in third. Notable exceptions include Shenzhen, which saw its ranking improve from 136 in 2017 to 130 in 2018, largely as a result of increased ratings for consumer goods availability and better monitoring on air pollution.
Conversely,
Seoul fell three places from 176 to 179
as a result of ongoing political instability, and Tokyo fell from 47 to 50.
Asia-Pacific
Illustrating the region's great disparity in quality of living, Singapore remains the highest ranking city in 25th place whereas Dhaka ranks 216th. In Southeast Asia, Kuala Lumpur (85) follows Singapore; other key cities include Bangkok (132), Manila (137), and Jakarta (142). Five Japanese cities top the ranking for East Asia:

Tokyo (50), Kobe (50), Yokohama (55), Osaka (59), and Nagoya (64)

. Other notable cities in Asia include

Hong Kong (71)

, Seoul (79), Taipei (84), Shanghai (103), and Beijing (119). City Sanitation rankings also vary considerably across the region with Kobe (8) the highest ranking and Dhaka (230) the lowest.
New Zealand and Australia continue to rank highly in quality of living: Auckland (3), Sydney (10), Wellington (15), and Melbourne (16) all remain in the top 20. The region's cities also rank high for City Sanitation, with Auckland in 5th globally and Adelaide in 7th.
Austria's capital Vienna once again defended its position as the city offering the best quality of life in the world, while Iraq's capital Baghdad remains the worst in the 20th edition of the global survey.
Vancouver, ranked fifth, offers the best quality of living in North America. Montevideo at 77 topped the Latin American places. The best African entry on the list was South Africa's Durban in 89th place.
Europe has eight of the world's top 10 most pleasant cities: Germany and Switzerland each have three cities in the top 10, while New Zealand, Canada and Australia each have one.
With a population of 1.8 million, Vienna topped the survey for the ninth year in a row, boasting a vibrant cultural scene, comprehensive healthcare and moderate housing costs.
Vienna is followed by Switzerland's Zurich and then New Zealand's Auckland and Germany's Munich in joint third.
A year before Britain is expected to leave the European Union, its highest ranked city,
London, fell one rank to 41
in an annual comparison.
"Cities in the UK continue to rank highly for quality of living, and remain attractive destinations for multinationals and their employees," said Ms Kate Fitzpatrick, Mercer's Global Mobility Practice Leader for Britain and Ireland.
Over the past 20 years, living standards increased the most in some eastern European cities such as Sarajevo, now at 159, and Bratislava, at 80, the report said.
"As a result of increased living standards, a competitive labor market and talent availability, many of these cities have started attracting multinational businesses setting up new operations," said Martine Ferland, President Europe and Pacific.
Baghdad has been at the bottom of the list for a decade now. Waves of sectarian violence have swept through the city since the American-led invasion in 2003.
Yemen's capital Sanaa, devastated by conflict, ranked two places above Baghdad, and Syria's Damascus, seven years into a civil war, ranked six places above Iraq's capital.
REUTERS
Interview of Mr. Khoo Teng Chye, the Executive Director of the Centre for Liveable Cities (CLC).
Q: Over the past 20 years, Singapore has been considered a smart city and is continuously improving the living standard of its residents. In your opinion, what have been the primary challenges to overcome?
Cities with the highest quality of living standard, based on Mercer indices, are cities with a low population density. Therefore,

it is even more challenging for a city such as Singapore to be at the top for high living standards since very few cities have both a high quality of living and high population density (above 7,700/km²).

Singapore is one of those cities, and due to its geographical position and scarcity in resources, the city had to think differently and strive for improvement by implementing specific policies, which would enable us to develop economically and infrastructurally, while keeping in mind the safety of residents.
The below chart depicts the correlation between a highly dense city and a high living standard (using Mercer Quality of Living data).
[What the chart above illustrates is that of the 70 cities ranked with the highest quality of life according to Mercer, only 3 have very high population density, and Singapore is the highest density in the top 70 cities.
The next closest is London, and that is ranked 41st. With lower population density.
Of course, you could point out that the top 70 is an arbitrary criteria. How about the top 100?

Well, that would include HK at 71st rank. Shanghai is 103rd. Taipei (89) should be there. It's population density is about twice Singapore's. So higher in population density, but ranked considerably lower in QOL.
There there is the location factor.
Lonely at the Equator
Look at the map below from Mercer. The top 10 countries are quite some distance from the Equator.
The bottom ten are closer if not actually on the equator.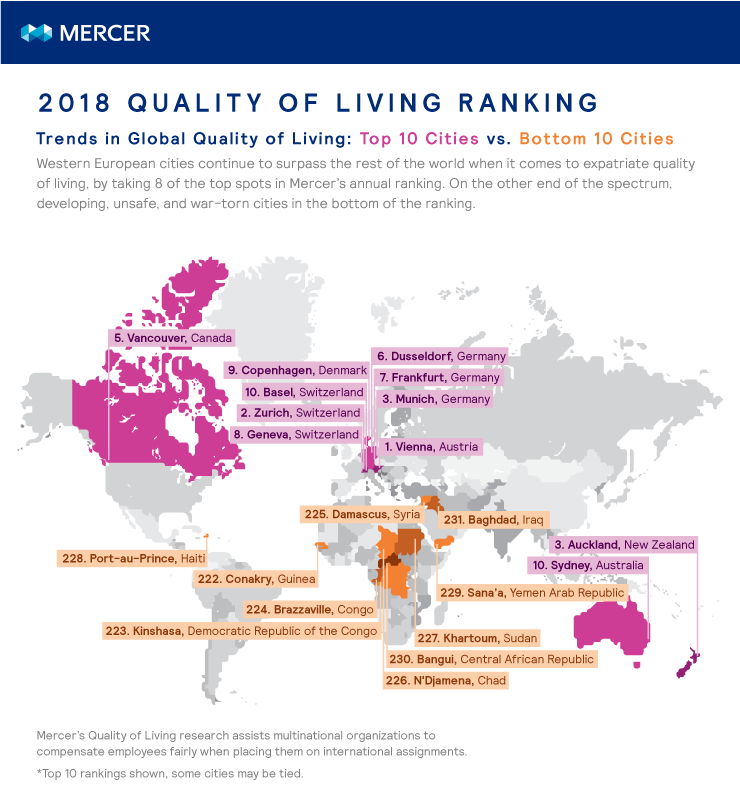 Singapore at 25th ranked, is practically on the equator. And lonely.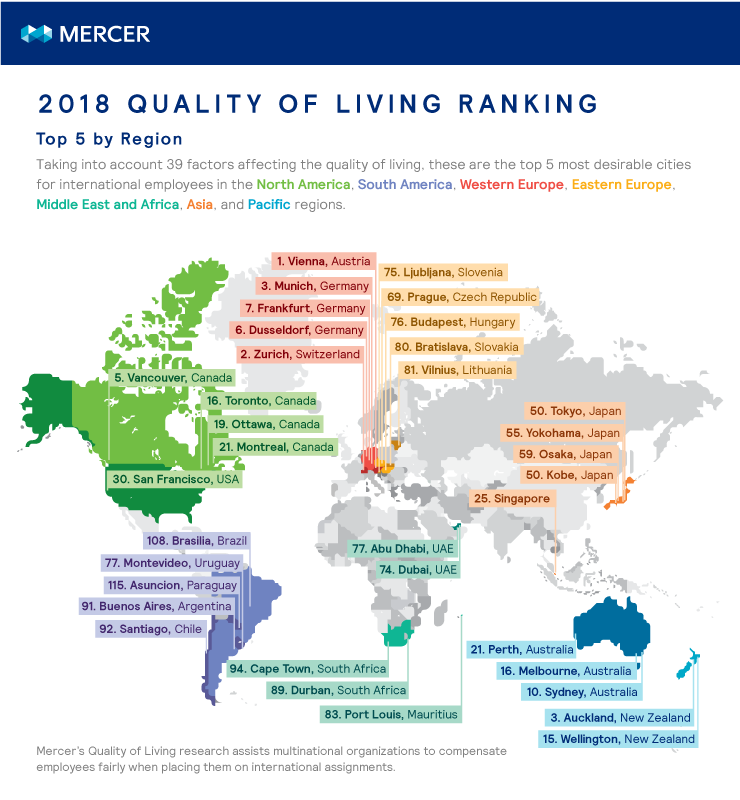 My point is, I wonder if heat and humidity is an unconscious or subliminal criteria for liveability. Being in Singapore, I think SG is doing quite well, but the heat and humidity for me makes it hard to call SG "liveable".
I doubt that SG will ever be in the Top 10 liveable cities, and given the population density and small size of the island with not much variety, it is unlikely to break in to the Top 20 even.

What do you think?]